You've been sweating off for months in the gym prepping for the long-awaited beach season, but is your skin ready for scorching temperatures? The sun, the heat, the humidity – these can cause serious damage to your skin unless treated well. There are plenty of ways to overcome these obstacles and preserve your health and beauty throughout the summer. Below we listed 5 most effective ways to get you skin summer-ready.
Turn to lighter makeup
We know makeup helps in covering all those annoying flaws and aging spots on your skin, but it's summertime – + less is more! With the arrival of sunny days, our skincare routine changes, requiring less makeup products and more sun-protection layers. While cold, gloomy winters require some more coloring and heavier foundation, summer asks for nothing but a couple of light products such as sheer lip gloss, waterproof mascara and a bronzer. With sun-kissed skin, you need very little for a fresh and beautiful look. One of the tricks is to use the subtle bronze glow for both your cheeks and eyes, for a youthful, slimming look that works on any skin tone. Instead of clogging your pores with heavy makeup products, let your skin breathe and turn to a more natural look.
Exfoliate
If you want to prevent flakiness and blemishes after tanning, you need to exfoliate beforehand. As the primary tool in preventing flakiness and rehabilitating smooth and shiny-looking skin, purchase a whole-body scrub, or give a try to one of various home-made scrubs recipes you can find online. Scrubs remove dead skin cells and dirt, leaving your skin feeling soft, looking smoother and ready to be kissed by the sun. Additionally, moisturizers, SPF and makeup last longer with exfoliated skin. Moreover, humidity and heavy sweating during the summer months can result in face filled with pimples, regardless of your age. This is why you should dedicate special amount of time and money to an adequate acne skin care for clear and glowing skin.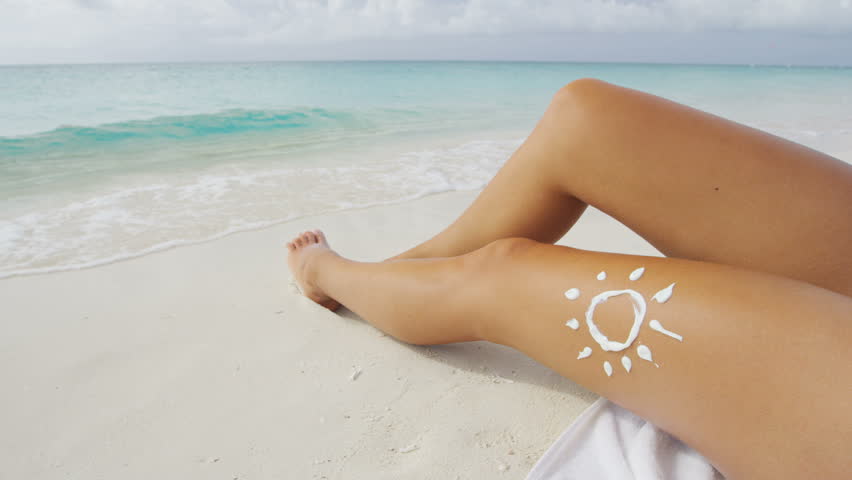 Hydrate
And then hydrate some more. Just like low temperatures and indoor heating can dry out your skin, hot weather and sun exposure can do exactly the same. This is why your body needs an extra boost of hydration in the upcoming months, so slather on your favorite go-to body moisturizer, beneficial oils and always have a bottle of water by your side. Moreover, you might want to avoid hot and soapy water and other harsh chemical products, and instead limit your shower time and use cold water and natural products. Consume more liquids throughout the day, and if plain water is too boring or tasteless for you, try variations like fruit-flavored water or unsweetened tea, but make sure you drink it up.
Take vitamin F
We got you there, right? There is no vitamin F, but there are plenty of essential fatty acids that help you skin remain healthy, and which are given the name "vitamin F" for practical reasons. The most common way of consuming fatty acids is through fish, but the newer option is algae powders that can be added to any morning smoothie. And if you're having troubles incorporating enough fatty acids throughout your diet, this vitamin can be taken as a supplement for healthier and more hydrated skin. The way it helps is through providing your skin with the omega oils it needs and therefore creates a stronger membrane to your skin cells, preventing dryness and flakiness.
Balanced diet
And of course, a healthy and balanced diet is a must if you wish to preserve the beauty and youthfulness of your skin. Instead of eating junk food and products high in calories, switch to superfoods – light meals, fresh veggies, fruits and lean protein. This way, you'll ensure a healthy intake of vitamins, minerals and fats your body needs in order to ward off hot temperatures.
You're ready to step into the sand just as you are, but your skin needs some extra pampering to survive the hot summer season. Bear in mind the tips we shared above and achieve the skin of your dreams and beach-ready confidence you've never had before!